The firmware allows creating a device with a easily configurable functionality including inputs, outputs, ADC, pulse counter/generator, I2C, external sensors.
Features overview
I've placed all features on the separate page. It is too long.
The status LED indicator works now.
The firmware supports up to 8 GPIO inputs or outputs.
The "switch" mode for inputs.
Pull-up, Pull-down, Tri-state options for inputs and outputs.
Analog inputs.
Internal temperature measurement.
Source voltage measurement.
UART (only text commands between an external device and a host, look at README.txt).
Some environmental sensors (DS18B20, BMP280, BME280, DHT 11, DHT 22, DHT 12, AM2301, Sonoff SI7021, MHZ19, SenseAir S8, Sensirion SPS30).
SI7021 (I2C), CCS811
PZEM-004T (Energy Monitor Sensor), BH1750 (Ambient Light Sensor), INA219 (DC Voltage/Current Sensor), INA3221 (3-channel DC Voltage/Current Sensor)
Pulse generator.
Pulse counter (infinite, resettable, interval).
PWM (hardware, up to 32 kHz).
PWM (software 3 kHz).
Bi-stable relay.
Watchdog timer.
Configurable default reporting interval.
Expert options (model ID, manufacturer info, network key, etc.).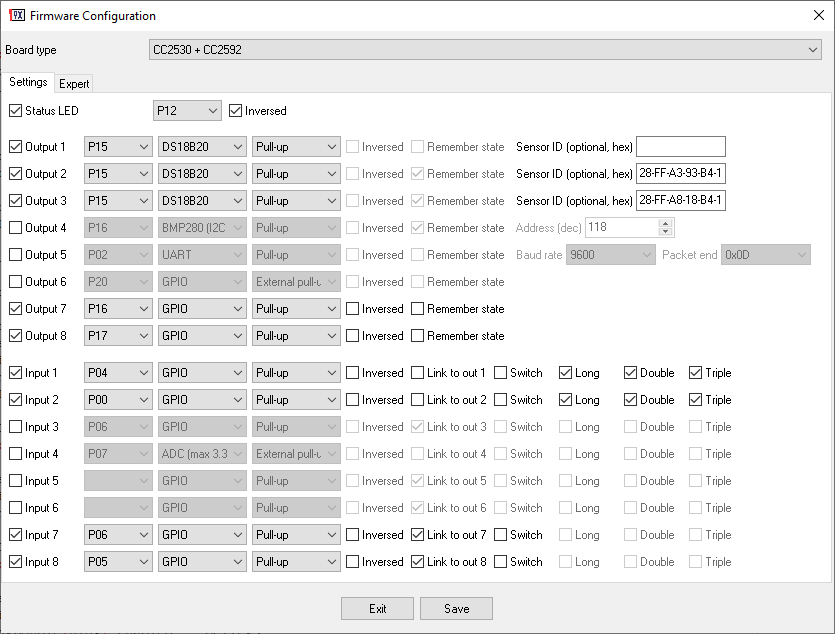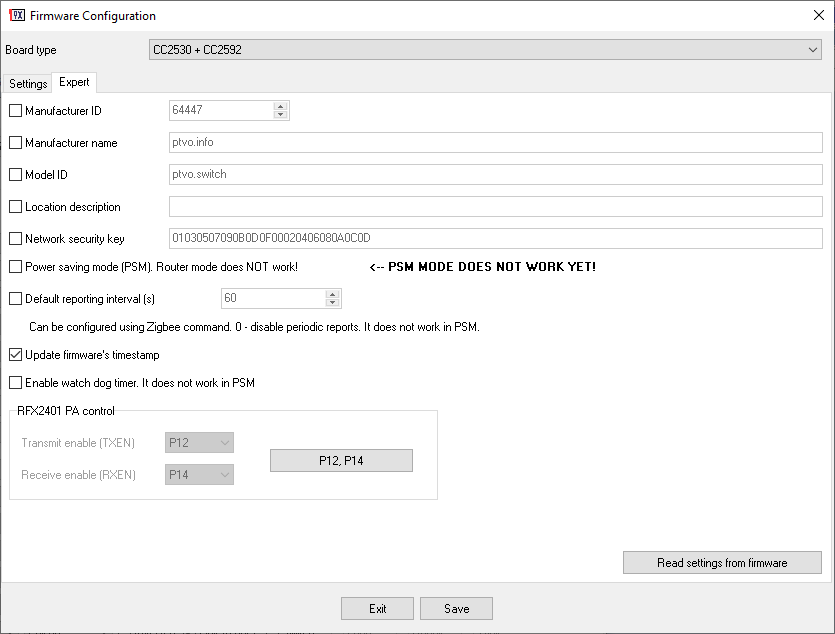 Download
Your comments and bug reports are welcome :-)!
Updates
2020-11-09 Added a virtual group switch.
2020-10-29 Added firmware for end devices (without routing).
2020-10-18 Added support of Sensirion SPS30 (Particulate Matter Sensor), PZEM-004T (Energy Monitor Sensor), BH1750 (Ambient Light Sensor), INA219 (DC Voltage/Current Sensor), INA3221 (3-channel DC Voltage/Current Sensor).
2020-08-14 Fixed problem with unexpected behavior of the P14 pin when it is configured as a GPIO output.
2020-08-10 Added ACS712 sensor.
2020-07-10 Fixed problem with losing connection after power loss.
2020-06-26 Tested SI7021 & CCS811.
2020-06-24 Fixed problem with switch buttons linked to relays. Added the toggle mode for a switch input (works like Aqara).
2020-06-16 Improved hardware PWM (added frequency selection up to 32 kHz).
2020-05-26 Fixed interview problems in some configurations.
2020-05-21 Increased number of inputs to 8. Configurable TXEN and RXEN pins for the RFX2401 power amplifier. Ability to assign the DS18B20 sensor to an endpoint.
2020-05-03 Added the "Inverse" option for inputs and outputs. Added PWM.
2020-04-22 Fixed internal temperature measurement.
2020-04-20: Fixed problem with a pull-up/down mode. Added checks for pull-up/down settings in the configurator.
2020-04-19: Fixed problem with empty endpoints that may cause problems with joining. Fixed a bug with
2020-04-14: Fixed a problem with ADC