The firmware allows creating a device with a easily configurable functionality including inputs, outputs, ADC, pulse counter/generator, I2C, external sensors.
Features overview
I've placed all features on the separate page. It is too long.
The status LED indicator works now.
The firmware supports up to 8 GPIO inputs or outputs.
The "switch" mode for inputs.
Pull-up, Pull-down, Tri-state options for inputs and outputs.
Analog inputs.
Internal temperature measurement.
Source voltage measurement.
UART (only text commands between an external device and a host, look at README.txt).
Some environmental sensors (DS18B20, BMP280, BME280, DHT 11, DHT 22, DHT 12, AM2301, Sonoff SI7021, MHZ19, SenseAir S8).
SI7021 (I2C), CCS811.
Pulse generator.
Pulse counter (infinite, resettable, interval).
PWM (hardware, up to 32 kHz).
PWM (software 3 kHz).
Bi-stable relay.
Watchdog timer.
Configurable default reporting interval.
Expert options (model ID, manufacturer info, network key, etc.).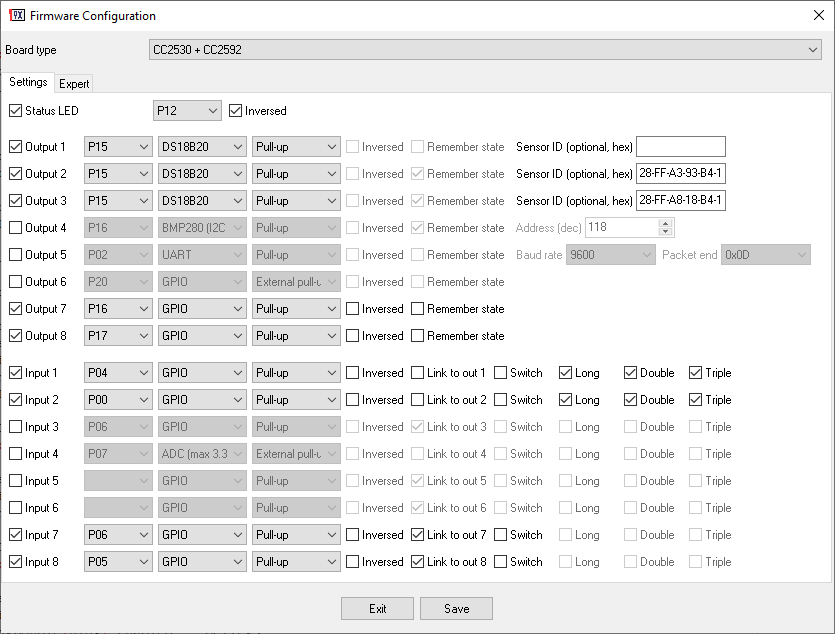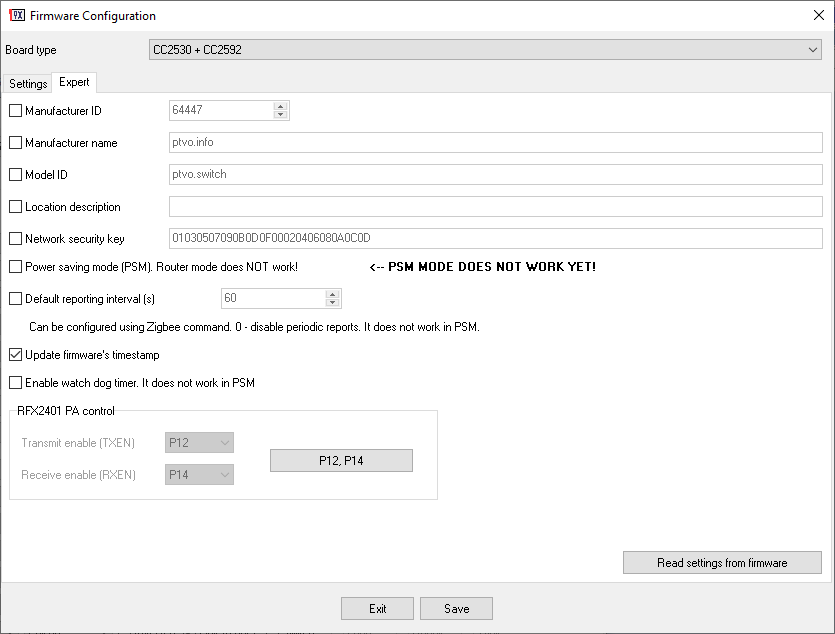 Download
Your comments and bug reports are welcome :-)!
Updates
2020-08-14 Fixed problem with unexpected behavior of the P14 pin when it is configured as a GPIO output.
2020-08-10 Added ACS712 sensor.
2020-07-10 Fixed problem with losing connection after power loss.
2020-06-26 Tested SI7021 & CCS811.
2020-06-24 Fixed problem with switch buttons linked to relays. Added the toggle mode for a switch input (works like Aqara).
2020-06-16 Improved hardware PWM (added frequency selection up to 32 kHz).
2020-05-26 Fixed interview problems in some configurations.
2020-05-21 Increased number of inputs to 8. Configurable TXEN and RXEN pins for the RFX2401 power amplifier. Ability to assign the DS18B20 sensor to an endpoint.
2020-05-03 Added the "Inverse" option for inputs and outputs. Added PWM.
2020-04-22 Fixed internal temperature measurement.
2020-04-20: Fixed problem with a pull-up/down mode. Added checks for pull-up/down settings in the configurator.
2020-04-19: Fixed problem with empty endpoints that may cause problems with joining. Fixed a bug with
2020-04-14: Fixed a problem with ADC