It is the next generation of Zigbee chips from Texas Instruments. The main advantage of these chips over CC2530 or CC2531 is the better radio part. It provides better signal strength with lower power consumption. You'll have great LQI characteristics with these routers. CC2652P or CC1352P2 have a built-in radio amplifier. They beat everything in the world 😊 🔥.
Examples
Launchpads with build-in debugger and flasher
LAUNCHXL-CC26X2R1 (Texas Instruments, AliExpress)
LAUNCHXL-CC1352P-2 (Texas Instruments, AliExpress)
Boards without a flasher
⚠️ Note: you should purchase a J-Link V8 (JTAG), J-Link V9, or XDS110 compatible debugging probe to flash firmware to these boards.
EBYTE E79-900DM2005S (CC1352P, external antenna).
EBYTE E72-2G4M20S1E (CC2652P ZigBee, built-in antenna).
RF-star RF-BM-2652P2 (CC2652R or CC2652P, built-in or external antenna).
CC2652 (USB stick, external antenna)
Notes:
These boards require a power supply with stable output current (200mA). Double-check cheap Chinese power sources.
Double-check the distance between pins or pin pads. For example, the EBYTE board has 1.27 mm between pins. It is very hard to solder.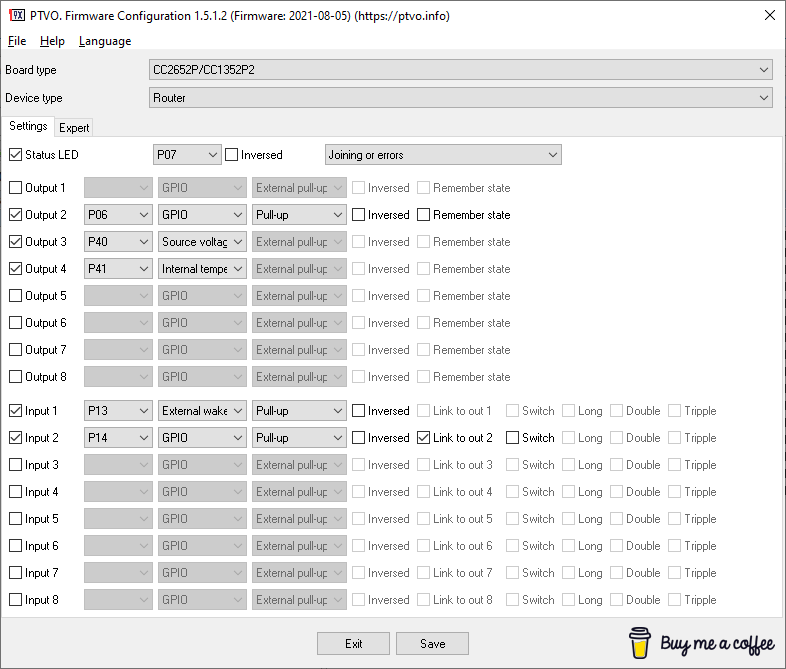 Download firmware
You can download the latest version of my firmware here. The ZIP package contains presets for LAUNCHXL-CC26X2R1. Of course, you can adjust the settings as you want.