Pulse generator
You may use this generator to wake up an Atmega-based external sensor. The external sensor should measure the value and output it to a UART port.
Pulse counter
It is a 32 bit counter with a configurable debounce interval (1, 3, 10, 20, 100, 1000 ms). Therefore the counter cannot be used for high-frequency signals.
If the "Interval" parameter is defined, the counter automatically resets after that interval and reports the counted values to a coordinator. If this parameter is zero, the counter increments indefinitely, and the firmware periodically reports a counter's value.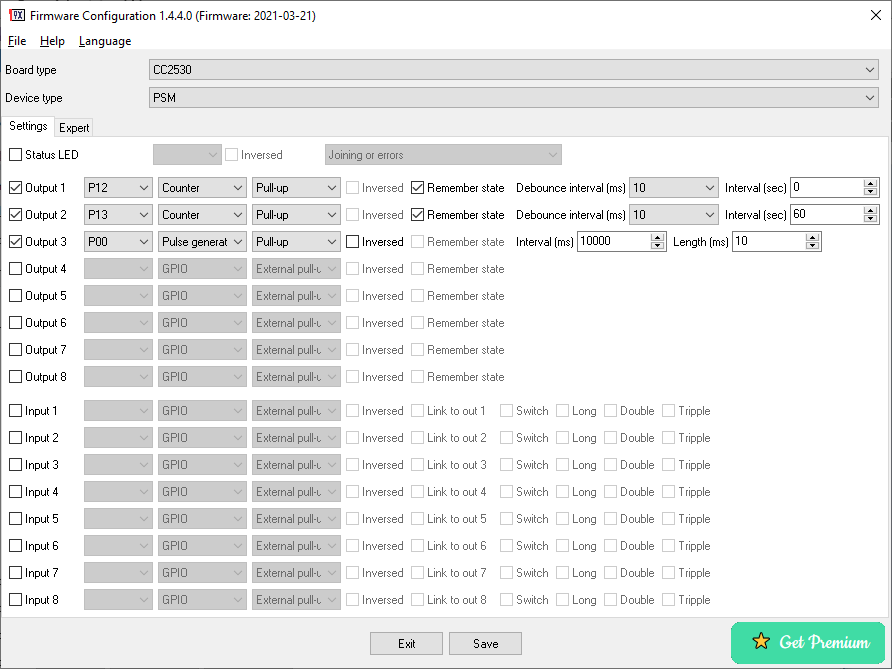 The counter in the power saving mode (PSM)
The counter uses a hardware interrupt for a rising edge for a configured input. The chip wakes up with every interrupt and stays alive for three seconds. If incoming impulses are too frequent, the chip will never sleep and consume battery power. It is OK if you count a series of impulses for a short time interval.
Please, consider using a special external counter in this mode.
Zigbee2MQTT commands
read - immediately reads the counter value.
Topic: zigbee2mqtt/[friedly_name]/get/[channel]
Channel: l1, l2, l3 … l16
Payload: 1
Returns: The counter value {"[channel]": float_value}
write - resets the counter, or sets any initial value.
Topic: zigbee2mqtt/[friedly_name]/set
Payload: {"[channel]": value}
Channel: l1, l2, l3 … l16
Value: any positive number