The PCF8583 is a clock and calendar chip. It has an event-counter mode.
The event counter mode counts pulses applied to the oscillator input (OSCO left open-circuit). The event counter stores up to 6 digits of data. The chip saves the counter value in an internal CMOS RAM and saves a value without external voltage. You may use this counter in the power-saving mode.
⚠️ THIS FEATURE IS AVAILABLE IN THE PREMIUM VERSION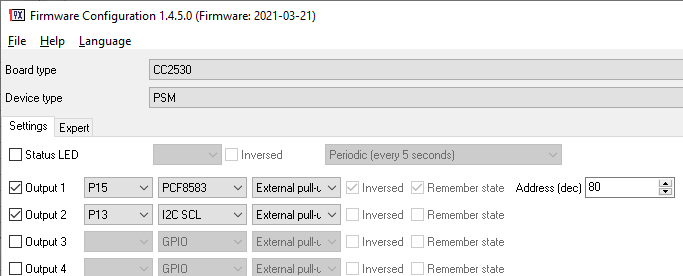 Note: Maybe, you need an external debounce filter (74HC132) for a counter input. Otherwise, the counter will count many noise values. The recommended schematic is shown below.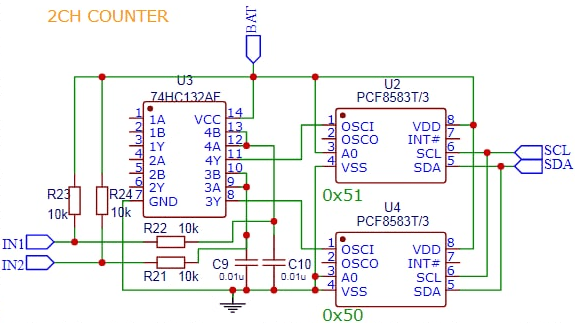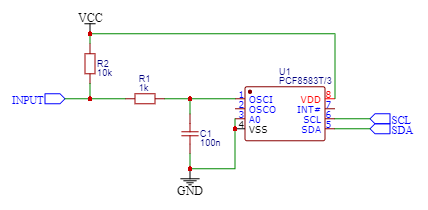 The firmware allows you to set an initial counter value from a coordinator using the "write" command below.
Zigbee2MQTT commands
read - immediately reads the counter value.
Topic: zigbee2mqtt/[friedly_name]/get/[channel]
Channel: l1, l2, l3 … l16
Payload: 1
Returns: The counter value {"[channel]": float_value}
write - resets the counter, or sets any initial value.
Topic: zigbee2mqtt/[friedly_name]/set
Channel: l1, l2, l3 … l16
Payload: {"[channel]": [value]}
Value: 0 or any your number